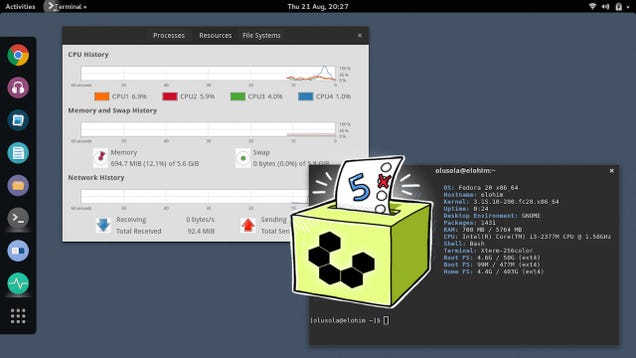 Whether you're customizing your Linux install or choosing a distro to go with, one of your many options is the desktop environment you use. There are tons to choose from, all with different benefits and features. There may be no one single best, but this week we're looking at five of them, based on your nominations.
Earlier in the week we asked you to tell us which Linux desktop environment was your favorite—mind you, we're talking about DEs, not distributions—and you replied with tons of great options, from the useful to the hilarious. Let's take a look at the five nominees that rose to the top, thanks to your votes, in no particular order: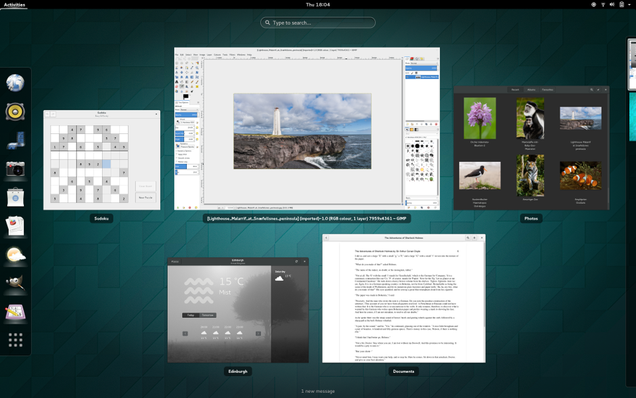 GNOME is one of the oldest Linux desktop environments, and certainly one of the most popular. GNOME—specifically GNOME Shell, the most recent iteration of the platform—has been designed to be easy to use, modern looking and attractive, and easy to customize and personalize. The break between GNOME 2 and GNOME Shell (the UI in version 3) upset many users, with several preferring the flatter, classic look of the DE and others preferring the more modern and less dated look of the most recent iteration. In any case, GNOME Shell has all the features you would expect from a DE, including a customizable application launcher, a top menu and status bar, system-wide search in the form of Dash, a window, application, and file manager, a notifications tray, and more. It even has window "snapping," similar to Windows 7's Aero Snap, support for touchpads and multi-touch gestures, and tons of extensions and system add-ons, widgets, and shell themes thanks to its broad adoption and huge user community. Even if you don't prefer GNOME Shell, countless other DEs and offshoots are based on previous iterations of GNOME, so you're likely using it as a bedrock for your preferred DE in some form or fashion.
Those of you who nominated GNOME did so in a couple of threads, some of you highlighting specifically that you preferred it in Classic Mode, so it looks a bit more like GNOME 2, and others praising the way it handles features like virtual desktops, system settings and customization options, and desktop search. It also doesn't hurt that GNOME has its own stable of supported apps rolled in, many of which are some of the best in their categories. Some of you called GNOME Shell out for performance issues, especially with the newer, more graphically heavy versions, but that's been a topic for debate in the nomination threads.
---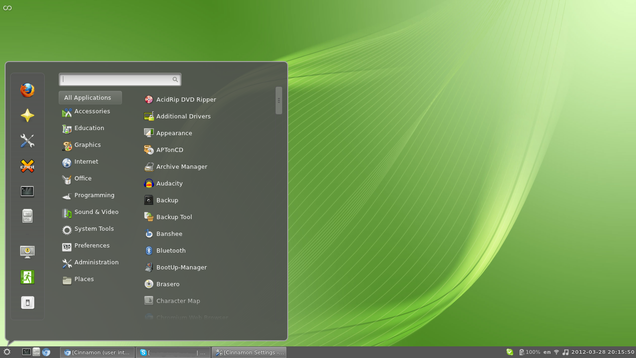 Originally developed as part of Linux Mint and a fork of GNOME Shell, Cinnamon grew into a desktop environment that's portable, good looking, feature-rich, and compatible with just about every popular Linux distro. It's based on the GTK+ 3 toolkit, and compatible with everything from its original home, Linux Mint, to other distros like Arch and Fedora. Cinnamon has been praised for bringing a very Windows-like UI to Linux, which breaks down the door to users who may be intimidated by the unfamiliar look and feel of other distributions and their interfaces. You get a customizable, easy to use menu from which to launch applications, and a bar across the bottom to switch between applications, and a tray that shows you applications in the background. Beyond that, Cinnamon customizable interface elements like that application menu that are movable around the screen, customizable applets and desktop extensions, themes, and more. It's simple and elegant, although certainly not for everyone.
Those of you who nominated Cinnamon recalled its roots in GNOME Shell. Many of you specifically noted that it was great for getting people comfortable with Linux who may not be or may be intimidated by it. Others of you mentioned specifically that Mint works so well because it's simple, customizable, looks great, and works smoothly, so you choose it for those reasons—not because you want to spend a lot of time getting your DE running and looking like a modern operating system.
---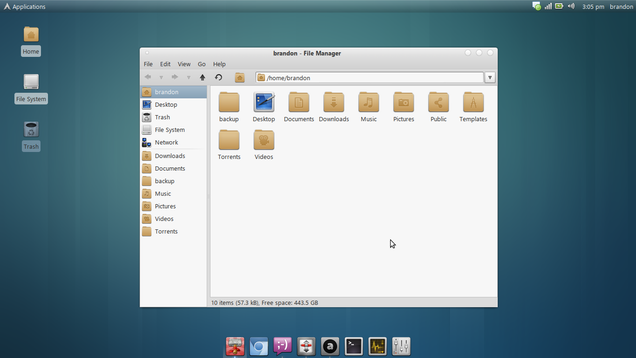 Xfce is a lightweight desktop environment that's based on the GTK+ 2, and built for Linux, Solaris, and BSD-based systems. It's fast, flexible, actively updated, and designed to be fast and light on system resources, so your system doesn't drag down just because your DE is heavy with graphical elements and effects. That doesn't mean that Xfce is barebones though—it's anything but. The UI is sharp and modern, looks great, and is overall user friendly. Xfce comes with all of the basic features you'd want in a desktop environment, including a panel for managing system settings and tweaks, window and desktop managers, a simple file manager, and an application launcher. Perhaps best of all though, Xfce is slim enough that you can load it up with your own customization elements to add to or replace the built-in ones and still wind up using less resources than some other DEs. Several distros even use Xfce as the default, including Xubuntu, Manjaro Linux, Mythbuntu, and more. Even where it's not the default, it's available as an option.
XFCE turned up a couple of times in our nominations thread, most often with you mentioning your preferred distribution along with it. Putting all of those nominees together, and it was clearly one of the most popular DEs you guys mentioned. Some of you preferred it with Xubuntu, some of you added it to Linux Mint, and others slapped it on top of Compiz and went to town. All of you praised it for being super lightweight and adaptable even to embedded and really old (or just light service) hardware. At least one of you pointed out that you loved the fact that Xfce's file explorer is a root file explorer, which is definitely a nice touch.
---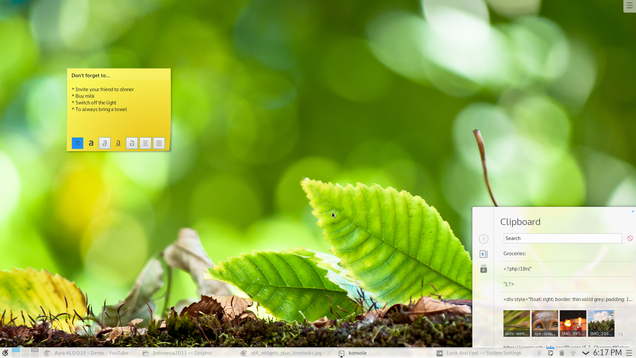 KDE is actually a collection of applications called the KDE Software Compilation, of which the desktop environment is just one. The original DE, first called the K Desktop Environment back in the day, was originally designed to give Linux desktop applications and tools a unifying look and feel, as well as to make them easier to use all-around. KDE uses the Qt framework. One of the best things about KDE is that not only do you get a desktop environment when you use it, you also open the door to an entire OS's worth of additional applications, utilities, and tools that play nicely with the DE, work in the Qt framework, and are equally easy to install and regularly updated. The current iteration of the DE, "Plasma," has variants for fully-featured systems where you want a more traditional interface, and a small-screen version for netbooks and other lightweight uses. KDE looks great, offers an extremely well polished experience, and doesn't skimp on the customization and personalization aspects. From widgets to whole themes, you can make KDE your own pretty easily, and the fact that there's a massive development and enthusiast community behind it doesn't hurt either.
Those of you who nominated KDE highlighted it's long tradition, and praised it for its good looks, sharp design, and attention to detail. Many of you highlighted the fact that you can download themes, wallpapers, and other customization elements easily without ever opening a web browser, and others of you noted that you'd defected from other GNOME-based DEs. Others of you praised it for its wide app support, and support for apps you may not be able to get working in other DEs. It's not the most lightweight option in the top five, but it was certainly one of the most well loved.
---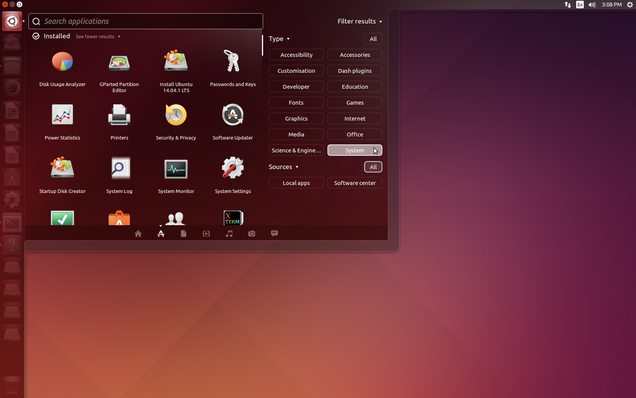 Unity is a graphical desktop environment based on GNOME Shell. It was developed by Canonical specifically for use with Ubuntu Linux, and debuted in a netbook/lightweight version of Ubuntu before making its way to the desktop version. Unlike other DEs, Unity isn't a collection of applications or tools designed to complete a user experience—instead it's designed to be an interface that work with whatever other applications you download and install, and it makes those applications easier to find. Unity is controversial to say the least—many people consider it bloated and slow, others consider it a beautiful and polished user experience. Part of Unity's allure is that it provides a single user experience that works just as well on keyboard/mouse, touchscreen, and touchpad environments. It's not feature light, to be fair—it comes with its own integrated desktop search tool and launcher in the form of Dash, Unity Preview, which is similar to OS X's QuickLook, a top menu bar and a launcher along the left side of the screen, and integrated application finder, and built-in web search. Even so, Unity's interface and design has turned off a number of users, and it remains an environment available largely for Ubuntu users, with elements of it available in other distributions, but none of them officially supporting Unity entirely.
Those of you who nominated Unity—and supported its nomination—explicitly said that you knew that its inclusion would be controversial, but sure enough it collected enough nominations to get into the top five on its own. You praised Unity for simple and easy to use keyboard commands for search and app launching, and smart search terms that will put you in the right direction even if you're not searching for exactly the thing you're looking for. Some of you noted it can be slow, and lacks some of the full and rich customization options available in other DEs, while others of you noted that it's a great option for people familiar with Windows looking for something like what they're used to.